We Thank all our clients who made the 2022 cruise season succesful.
Blantyre is undercover and waiting for the May 2023 cruising season.



Captain Wheeler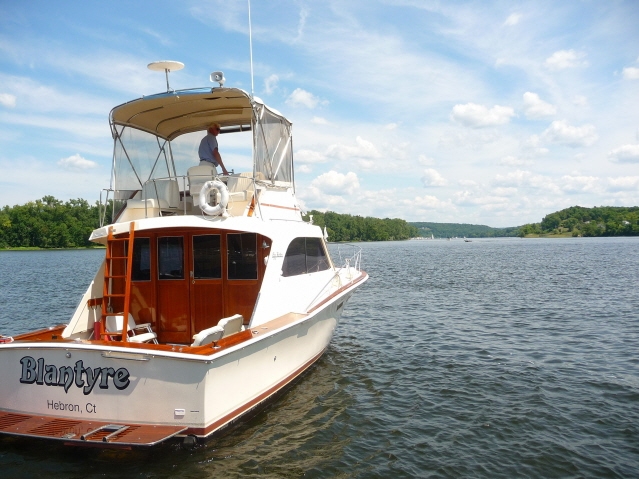 Explore the serenity, beauty, and excitement of the Connecticut River and Long Island Sound!

Cruises operate weekends, holidays, Monday through Friday by reservation.

We board passengers at Middletown Harbor docks.

Make your cruise reservations now! Life is good on the River!
The Middletown Harbor Park restaurant is still under renovation. We hope it will be operating in 2023.
For folks who like traveling in style!
...Celebrate Birthdays, Anniversaries, Engagements,
...Picnic on Dart, Haddam, and other river islands,
...Give your Special Friend a boat ride,
...Enjoy a sunset cruise, bring your favorite drink & food.
...Spend an afternoon at Haddam Island,
...Excite the family with a cruising vacation,
...Lunch at Haddam's Blue Oar Restaurant,
...Enjoy cruising to the Goodspeed Opera House,
...You imagine it we do it!
Cruise to your destination on your schedule!
...Private cruises to Old Saybrook, Chester, Hamburg Cove, Essex...
...Long Island Sound destinations are an easy reach:
e.g. Jamestown, Montauk, Watch Hill, Thames River, Mystic, Block Island...
Special Event Cruises
... Sunset Cruises depart 2.5 hours before Sunset, bring food & Beverage.
... Fire Works: Middletown July TBD, Hartford, Haddam Island.
... Tree Swallow Cruises From Essex September through early October.
... Fall Foliage Cruises available mid to late October.
Make your Special Event Cruise reservation now!